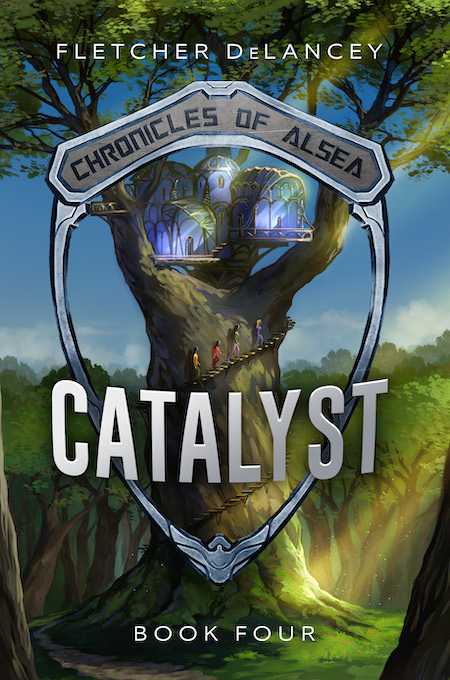 Ekatya and Lhyn return in this action-packed adventure (and Golden Crown Literary Award finalist) that bounces between Alsea, the Protectorate homeworld, other alien worlds, and a newly built Pulsar-class warship on its shakedown cruise.
After disobeying orders to save the planet of Alsea, Captain Ekatya Serrado has returned home to something less than a hero's welcome. At her side is Dr. Lhyn Rivers, now the foremost authority on a culture that fascinates and terrifies.
Ekatya and Lhyn share a secret: they are tyrees, linked by an Alsean empathic bond that should be biologically impossible for Gaians. Exposure could destroy Ekatya's career. But when both women are drawn into a high stakes political game, their tyree bond may be all that stands between them and a terrible fate.
In Catalyst, the fourth book of the Chronicles of Alsea, the bonds of love, friendship, and family are redefined. The intersection of the Alsean and Gaian cultures has profoundly changed both—and become a catalyst for miracles.
Reviews
"Altogether a brilliant read and one that I found hard to put down. All the books in the series portray the major players with deep, complex and detailed personalities, but this one takes us to another layer of psychological exploration, while we are actually reading scenes of action adventure and a dark thriller. DeLancey once again proves herself to be an expert storyteller and a wonderful writer who has a gift for the creation of extraordinarily detailed worlds and sophisticated multidimensional characters. I want nothing more than to sit in a corner and read the whole series again." — Lesbian Reading Room
"I highlighted 20 quotes that just made me squee and bookmarked 6 scenes for their (non-sexual) intensity. Basically, they make me cry or clutch my heart. The first time I read the book, the action sequences carried me along but I came back to re-read the emotions." — C-Spot Reviews